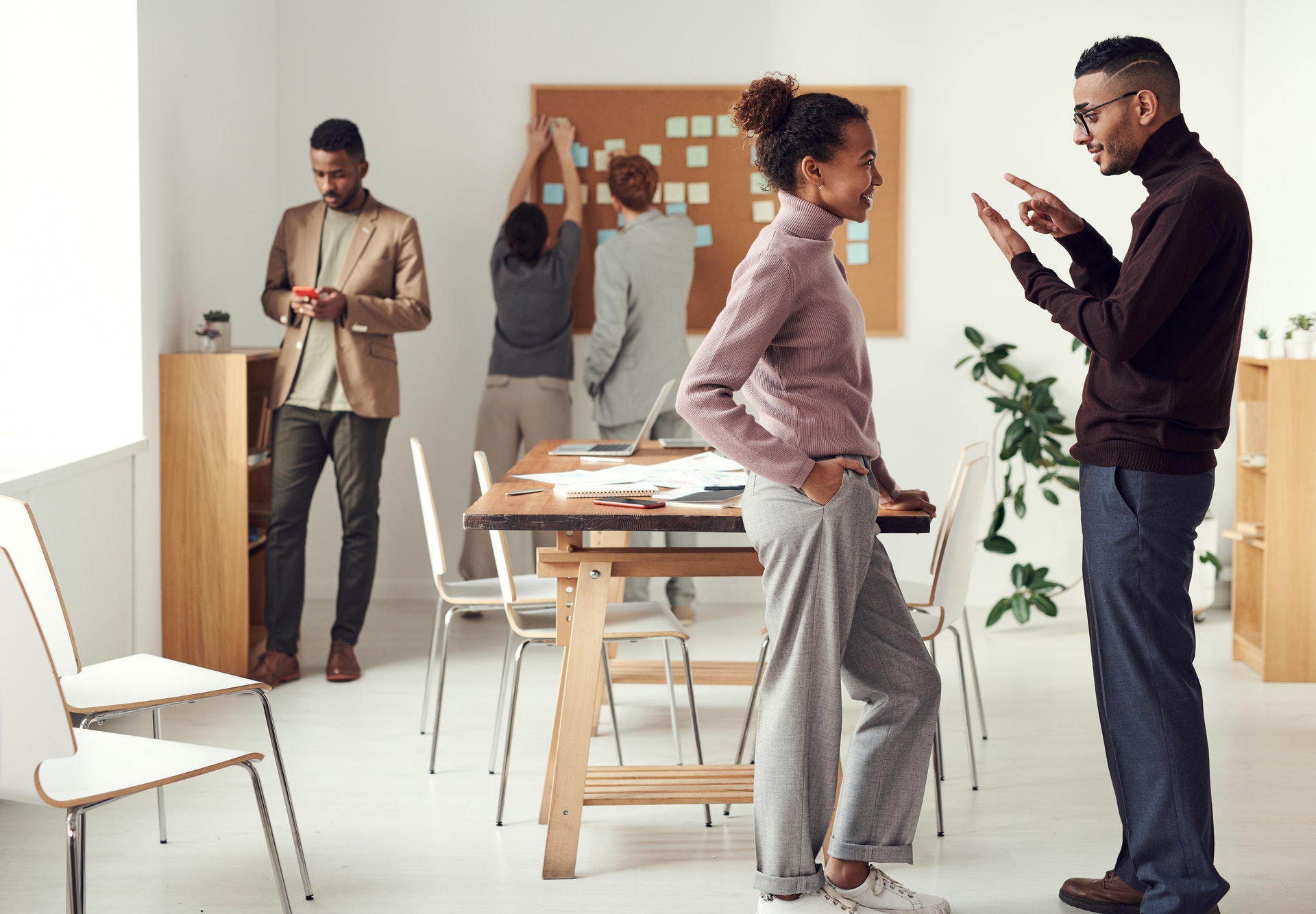 Spontaneous meetings
to keep in touch
with colleagues and friends
What am I missing out on?
Remember when we used to work in offices? Remember how we used to bump into colleagues and friends and have a quick chat? We would catch up on office gossip, discuss our work, meet new people, learn about new initiatives and so on. These conversations are informal, but they are a valuable source of networking and FUN.
It's really hard to replicate this concept with formal meetings, especially when there are lots of people involved. So staff and businesses are losing out on this corporate glue.
What is Kitchen Conversations?
Kitchen Conversations is an online service that spontaneously brings together colleagues and friends in small groups.
It does this by carefully selecting two or more people, at times throughout the working day.
The people are emailed to inform them they have been selected. But they won't know who they are meeting.
How does Kitchen Conversations work?
Using Kitchen Conversations, you can sign up an organisation or department. The service will then carefully email small groups of people to encourage them to briefly catch up, usually using your own video conferencing service.
Our carefully crafted algorithm will send out invitations to participants. They can either attend or reject the invitation.
Setting up Kitchen Conversations is easy, and you've got flexibility to configure it in a way that suits your business. For example, set up your preferred operating hours and how often meetings should be set up.
If you are a large organisation that would like to self-host, let us know using the form.
At this time, we do not integrate with corporate calendars such as Office 365 and Google Workspace.
Kitchen Conversations Terms of Use
As an early adopter of Kitchen Conversations, the following terms apply to your use:
Only add participants who you are entitled/authorised to set up. For early adopters, participants are limited to your organisation.
You will be given free access for up to 1 year.
You may cancel your service at any time.
As this is currently a free service, we do not guarantee any particular service levels.
We will welcome your feedback, ideas and a testimonial.
We reserve the right to cancel your account if we do not believe you are using it in the manner that it was intended (e.g. if you are spamming people or sending inappropriate content).
We may throttle our service if there is higher demand than expected. This will be temporary and may for example affect the number of meetings you can request per day.
We respect the privacy of your meeting participants. We will endeavour to keep your data safe from theft. We will not use, sell or give away your personally sensitve data. We may mention your organisation as a customer, and we may use aggregated data counts for reporting.
CommunalEvents
Kitchen Conversations was quickly built to demonstrate another example of how CommunalEvents can be used to power innovative event-based solutions.
CommunalEvents is a cloud platform that powers event, venue and host listings on your website and mobile app. Your users can search, view, book, review and request. Your web app can have any design layout.
By offering event workflow features, CommunalEvents specialises in supporting events (like Kitchen Conversations) that are more complicated than just buying a ticket. For example, events where a minimum booking number must be reached or where booking confirmation is required.